Testimonials: dating with Russian woman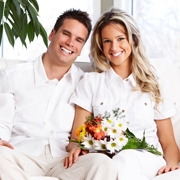 Irina and Eric
I met Eric on the website Beautiful-helen. Over four months we corresponded and learned many interesting things about each other .Eric is very touching to me and always did surprises for me without ceasing to amaze . When Eric had the opportunity to come to Ukraine, we immediately met and the meeting was long-awaited and just wonderful , we continue to develop our relationship . Thanks site Beautiful-helen.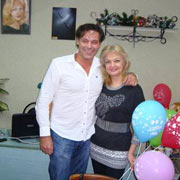 Irina and Dave
Hello!! My name is Dave. I am from a small town in Pennsylvania, United States. I would like to thank "Beautiful Helen "service leading me to Irina. I met Irina a few months ago on this site. I feel that it is a day I will never forget. From the first moment she was an angel for me. Through our months of conversation I truly believe she is my "other half". She always could understand me in the right way. She knew my thoughts, answered questions before I asked them. We felt very comfortable with each other. She is a fantastic woman! We had a wonderful time! We spent a great week together, walking, holding hands, doing many different things from sightseeing water parks to bowling. It was an unforgettable meeting! Soon we will have another meeting and finally I will take my Irina home! Thank you to the "Beautiful Helen" staff for helping me with setting up the whole trip. The apartment was wonderful and clean and they even arranged for my transportation to and from the airport. Special thanks go to Irina's translator, without her we would have been lost! Thanks again to "Beautiful Helen".
Dave, United States on 20 July 2012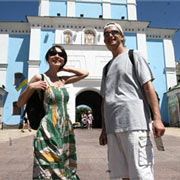 Elena and Christian
I would like to share with you my happiness and feelings about the man I met. Just 2 days ago we said "Good-Bye" to each other but my memory is still full of wonderful moments we spent together. We met in real life after half a year of communication here. Our meeting was fantastic and simply amazing. We decided to be a couple, and just wanted to spend as much time together as possible. Our feelings became stronger for each day and the love between us became deep.
I continue to keep in touch with Christian. We talk almost every day on the phone and planning our second meeting very soon. I would like to say thankful words to Beautiful website for the opportunity it gives us to meet each other no matter of the distance between us! We realized that we desire to develop our relations.
Indeed I find myself grateful that through this website I found such a wonderful and handsome man as Christian. Many thanks to Beautiful Helen!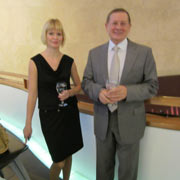 Marina and Karl
After having letters and much chat conversation we met in Odessa, Ukraine. Thank you to the interpreter Alina from the agency that helped us very much. A month later after even more phone calls we decided to meet again and have the meeting with her parents and relatives. I have fallen in love with the girl of my dreams to Marina.
I am the luckiest man in the world and cannot wait to bring her home with me as my wife! My life will never be the same! Thank You Beautiful Helen!!!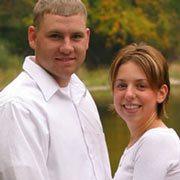 Natalia and Drew
Hello Beautiful Helen and its members! I spent a great week with a strong and close man to my heart- Drew. I met him at this website and I am very happy he came to my town and into my life.
We visited a lot of places and we were walking, talking, laughing and going to restaurants together. I think that a real meeting is necessary in order to know where the communication can lead! The main thing is to always stay sincere. We liked each other very much and hope to develop our relationships.
I think our meeting is successful. I am very captivated with his wonderful personality and I am glad that we have a lot in common and want the same things in life.